Present Position:Home > News > Company News
Notice of GDZX Chinese New Year Holiday in 2020
Time:2020-01-10
Number:78
Spring Festival, the lunar new year, is the first of a year, the traditional sense of the "New Year's day.". Wuhan GDZX Power Equipment Co., Ltd., in accordance with the national regulations and in combination with the actual situation of the company, announced the notice of Spring Festival holiday in 2020 as follows: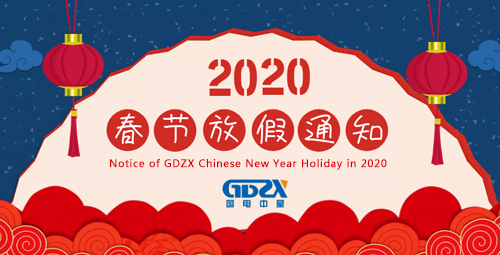 1. Leave time: from January 17, 2020 to January 31, 2020, 15 days in total. Go to work on February 1 (the eighth day of the first month).
2. During the holiday, accidents happen frequently. Employees returning home during the holiday should pay attention to personal and property safety. Please return to the company on time after the holiday.
3. All departments are requested to actively cooperate in the implementation of the company's systems, properly arrange the pre holiday production and after-sales work, and carefully carry out various safety inspections to ensure the property safety of the company and its employees during the holiday.
If you have any business matters, please contact the relevant business personnel. The relevant contact information is as follows:
Product and service hotline:18971604443.