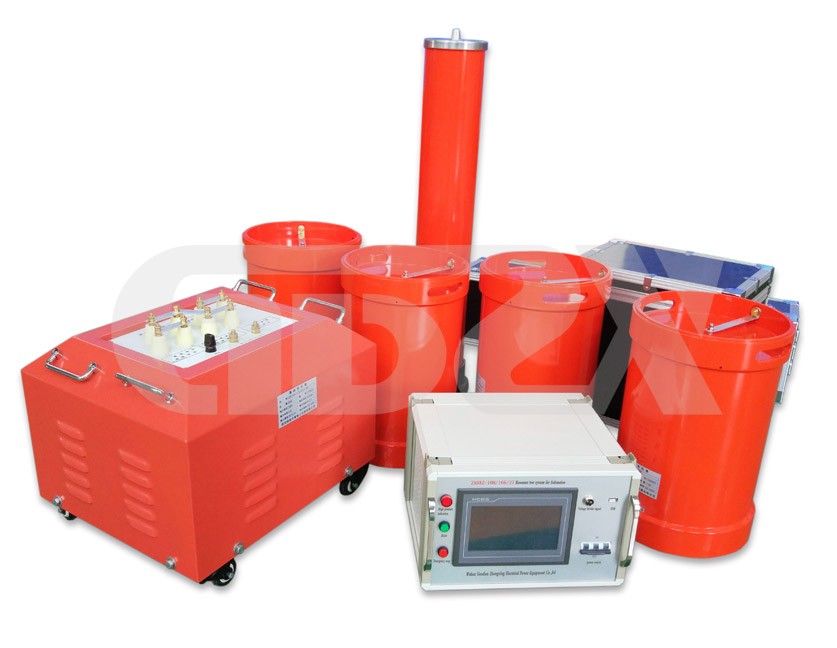 ZXBXZ Resonant test system for Substation
This series devices are designed for AC withstand voltage test of substation primary equipment under 550KV or below, mainly composed of variable-frequency power supply, exciting transformer, reactor and capacitive Voltage divider。
Features
1.Easy to operate, two working modes: manual and automatic.

2.Can set Test Voltage, frequency range, protective current and operating time.

3.Smaller size, lighter weight compared with same voltage level same capacity reactor.

4.Small temperature rise at rated load. Strong protection, good stability. Multiple functions, cost effective.

5.Dry type epoxy cast, high mechanical strength, good insulation, nice and reliable.

6.Adjustable capacity of frequency control source.

7.With 220V or 380V single phase power, convenient for on-site power sourcing.

8.Flexible configuration. Different type reactors for option to meet different test object requirements.
Technical indicators
1.Rated output voltage: 0 - 1000kV, output frequency: 30 ~ 300Hz.Waveform: pure sine wave, THD <1.0%.
2.Duty Cycle: Continuous working time 60mins one time at full power output.
3.Quality factor: 30-90. Frequency adjustment sensitivity: 0.1Hz, instability <0.05%.
4.Power Supply: 380/220V±15%, 50Hz ± 5%.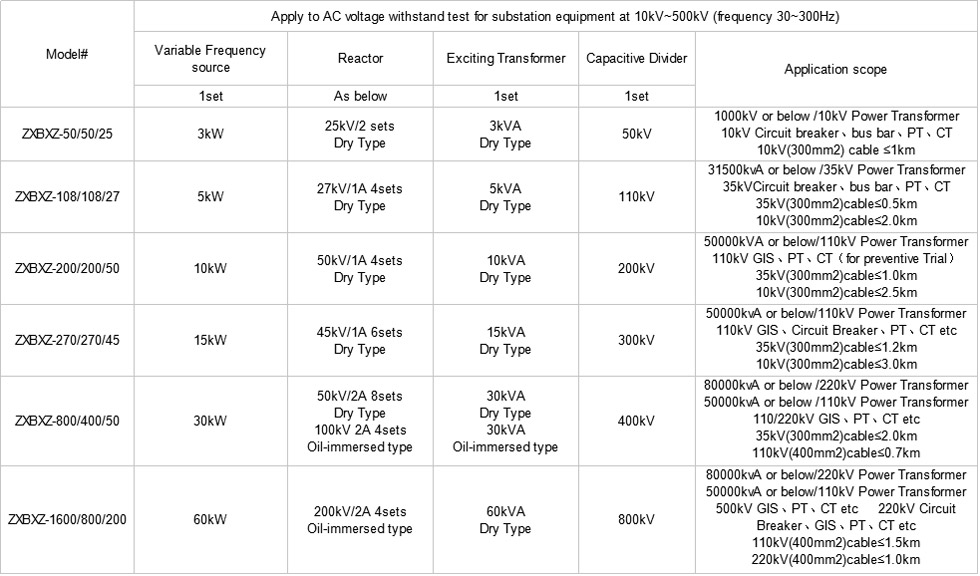 Our products are manufactured in strict accordance with international and national standards and industry regulations. Our products passed the ISO9001 international quality management system and got certificate by the national, provincial and municipal electric research institutes, metrology centers and power authority departments. We also obtained license for manufacturing Measuring insturments, fully meeting GB / T19001-2008 quality management system requirements, GB / T24001-2004 environmental management system requirements, GB / T28001-2011 occupational health and safety management system requirements.
Service commitment
Pre-sale service commitments

Sale service commitments

Sale service commitments