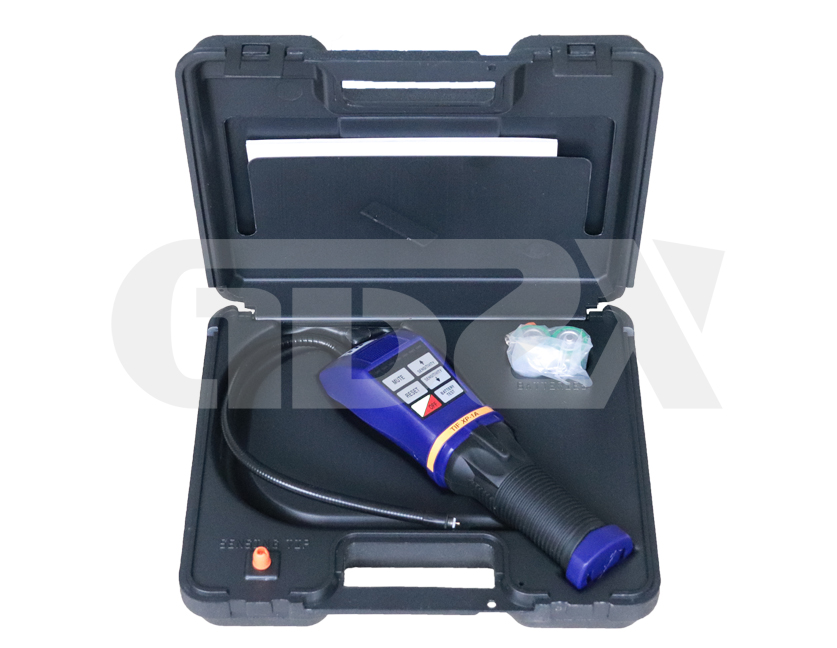 XP-1A Hand-held SF6 Gas leak detector
This instrument is mainly applied for the leaking finding of equipment and container which are filled with the SF6 and other halogen gas in the ministry of water conservancy and electric power, the manufacturing engineering of electronic device, and the metallurgy of iron and steel, the petrochemical industry, the railway transportation, the mining industry, the extinguisher apartment and the atomic physics research institute.
Features
1. Detecting SF6 gas detection of the power switch;
2. Detecting leakage of various HFC, CFC and HCFC refrigerants;
3. The high efficiency pump inside the probe can reduce the response time of the instrument;
4. No calibration is required and the warm-up time is short;
5. Leakage can be found even in a polluted atmosphere;
6. Ultra-sensitivity: At an annual leak rate of 4.6 g/year, it can still react to a very small amount of leakage;
7. LED leakage loss vector indicator light, there is a reset button on the probe handle, a large amount of refrigerant will not "poison" the probe;
8. The narrow and flexible stainless steel probe can detect difficult areas.
Technical indicators
Measuring Method
mechanical pump style
Flexible probe length
35.5cm
Leakage level indication
18 levels
Sensitivity adjustment level
7 levels
Reset function
yes
Mute key function
yes
battery test function
yes
Ultimate sensitivity
<3g/year
Response time
Instantaneous
Reset time
1 second
Warm up time
Approximately 2 Seconds
Operating temperature
30°to 125°F (0

℃

to 52

℃

)

Size
22.9x6.5x6.5cm
weight
560g
Power supply
3V DC;two "C" cell alkaline batteries
Battery life
30 hours
Sensing tip life
Approx. 20 hours
Certifited to
CE,SAE J1627
Service commitment
Pre-sale service commitments

Sale service commitments

Sale service commitments