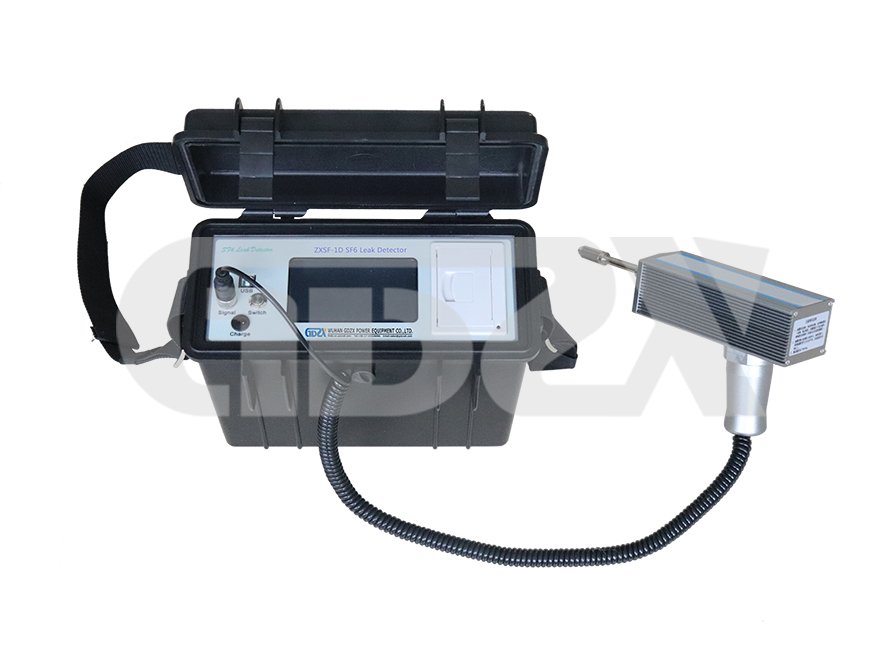 ZXSF-1D SF6 Gas Leak Detector
SF6 Gas Leak Detector is with high sensitivity, good stability, high speed, easy operation and large moving range. It rapidly detect SF6 breaker, GIS leakage point and yearly leakage rate qualitatively and quantitatively. It's a good device suitable for power supply department, installation and overhaul unit, power test institute.
The quantitative leak to infrared sensor at the core, high-precision sampling AD, speed ARMCPU, making the sample data is more real, more reliable. The instrument uses a color LCD touch-screen display, user-friendly appearance, easy to operate.
Features
1. 4.3" TFT touch screen design

2. 32-bit ARM MCU

3. Separately designed air way and circuit

4. Digital display of battery electric quantity

5. Good repeatability, high response speed

6. Automatic calibration of gradient

7. Color LCD display

8. Advanced probe protection function

9. Anti-pollution, anti-disturbance

10. High sensitivity, good stability

11. Small, beautiful, easy to carry
Technical indicators
1. Measuring range:0 ~ 999.9PPM
2. Accuracy: 1PPM (0 ~ 50PPM inside)
3. Resolution: 0.1ppm
4. Repeatability: ± 0.1PPM
5. Gas flow rate: adjusted automatically
6. Probe protection: stainless steel sintered filter
7. Operating voltage: 110 ~ 220VAC, AC and DC
8. Storage Temperature rating: -25 ~ + 70 ℃
9. Operating environment: Temperature: -25 ~ + 60 ℃
10. Lithium battery, AC/DC dual-use, automatic switching, protection against over-charging and over-discharging
11. Volume and weight: 372×266.5×134.5 (mm), 3.5kg
Service commitment
Pre-sale service commitments

Sale service commitments

Sale service commitments