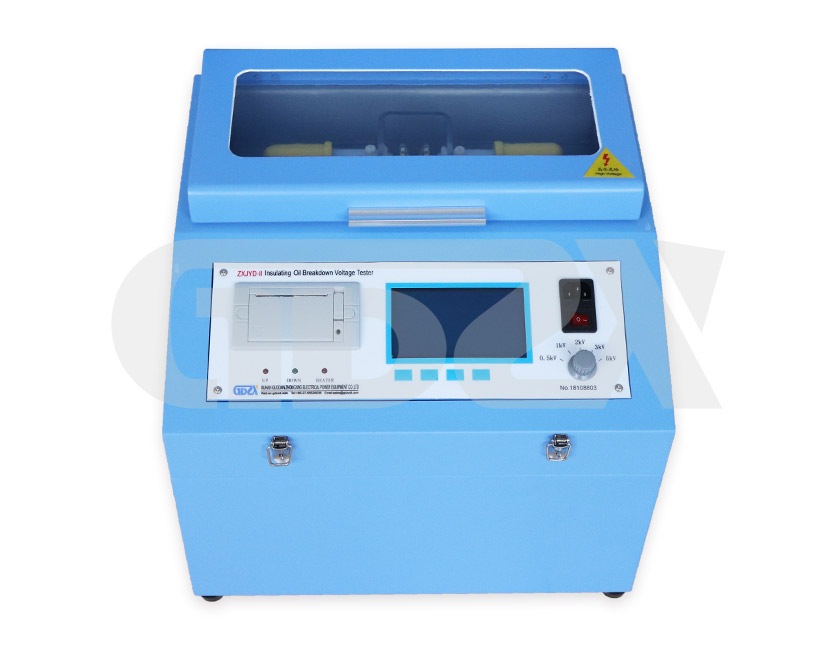 ZXJYD-II Insulating Oil Breakdown Voltage Tester
ZXJYD-II Insulating Oil Breakdown Voltage Tester. My company all the scientific and technical personnel, according to national standard GB507-86 and line standard, the relevant provisions of DL/T596-1996/DL-474-4-92, give full play to our advantages with a lot of field test and long-term unremitting efforts, carefully researching and development of high accuracy, full digitalization to the Automatic Insulating Oil Dielectric Strength Tester. This tester is easy to operate, beautiful shape. Bescause of adopting the automatic digital computer control, the tester is high precision measurement, antijamming capability powfully, safe and reliable.
Features
1. The instrument adopts the large capacity single-chip microcomputer control,works stably and reliably.

2. Instrument can eliminate the phenomenon of crash with wide range of watchdog circuit.

3. A variety of operation to choose, Instrument program with IEC156, ASTM D877 and ASTM D1816 three methods of national standard and custom operations for different users' multiple choice

4. Instrument test cell is made of a special glass casting form once to eliminate the phenomenon of oil leaking and other interference

5. Instrument can take articularly high voltage terminal sampling design for test values to analogue-digital converter, to avoid the error caused in the analog circuit, to make more accurate measurement results.

6. Instrument internal functions of overflowing, overvoltage, short circuit be protected,and are good for antijamming capability and electromagnetic compatibility

7. Instruments are portable structure , easy to move, used inside and outside rooms.
Technical indicators
1. step-up transformer capacity:1.5 kVA
2. rate of voltage rise :0.5 kV/s,1kV/s ,2.0kV/s,3.0kV/s , 5.0kV/s five gears
3. output voltage:0~100 kV
4. aberration rate of power supply:<1%
5. display mode:Big LCD display Chinese characters
6. electrode gap:standard 2.5 mm
7. boundary dimension:409×393×388mm
8. Instrument weight:29kg
9. environment temperature:0~40℃
10. relative humidity:≤85%
11. working power supply:AC 220V ± 10%
12. supply frequency:50 ± 5Hz
13. power consumption:<200W
Service commitment
Pre-sale service commitments

Sale service commitments

Sale service commitments