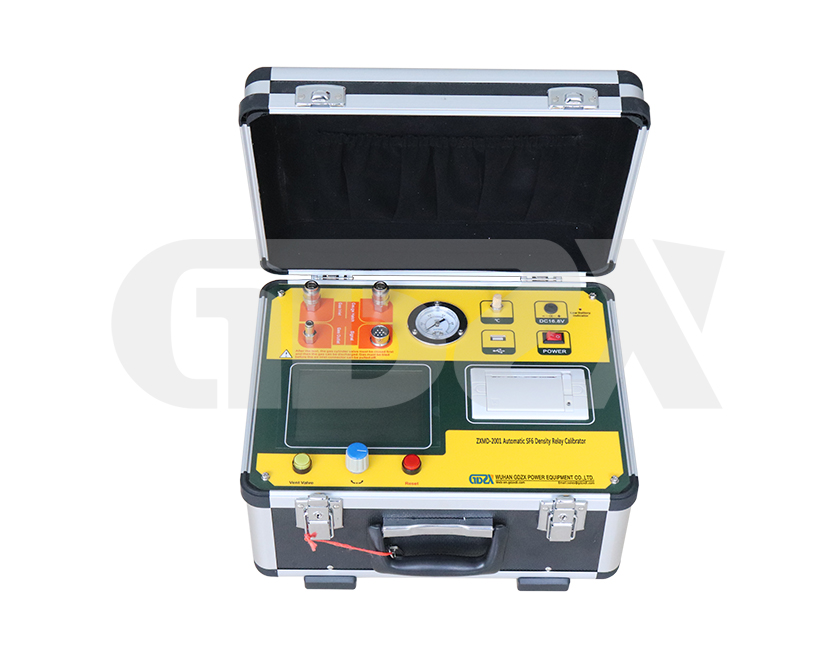 ZXMD-2001 Full Automatic SF6 Density Relay Calibrator
Automatic SF6 density relay calibrator is an intelligent SF6 density relay calibrator. The instrument adopts high-precision pressure sensor and high-speed A/D converter, combined with 32-bit high-performance microprocessor, which can verify the performance of various SF6 density relays, accurately measure the pressure value at the current temperature when the signal acts, automatically complete the conversion of standard pressure at any ambient temperature to 20 ℃, and can print and store the test data in real time for reference and automatic identification Don't test for faults in the process. The product is easy to carry,easy to operate, high accuracy, strong stability and good reliability, which embodies the characteristics of "intelligent" instrument.
Features
1.The product adopts 32-bit microprocessor and TI company's high-speed signal processing chip for detection and control, with high integration degree. Mechatronics design, high precision, good repeatability, high reliability.

2.Equipped with a large English LCD screen and a rotating mouse (one button flying shuttle) human-machine interface, the operation is simple, the interface is beautiful, all parameters and status are clear at a glance.

3.Automatic pressure measurement and 20 ℃ value conversion are completed, thus dynamic automatic compensation between pressure and temperature is completed. It also shows the pressure under the measured ambient temperature,the pressure under the ambient temperature at 20 ℃ and the ambient temperature. The problem of field calibration of SF6 gas density relay is solved thoroughly.

4.All the testing process is automatically completed by the instrument without manual intervention, which avoids the tedious manual gas path adjustment operation.

5.All metal quick connector is adopted to effectively avoid the locking phenomenon of plastic connector in low temperature environment.

6.The test results are printed in English character report form, and the test results are analyzed intelligently.

7.It can store 50 groups of test results at the same time, and has the function of power-off data protection. It can query and print the previous test results at any time.

8.In the calibration process, constant temperature chamber is not required, and SF6 gas density relay and pressure gauge can be calibrated within any effective temperature range.

9.Equipped with a variety of models of transition joints, most models of switch density relay can be field verified without disassembly.

10.In the calibration process, the gas consumption is very little, SF6 gas is not wasted, the test cost is low, and there is no pollution to the environment.

11.It has the function of modifying the system clock online.

12.It has the function of modifying system pressure on line and can be corrected on site.

13.The core components are imported components with reliable performance.

14.It can test one set of alarm signals and two sets of locking signals at the same time.

15.This product is a portable tool, easy to use and reliable, is the best choice for SF6 density relay calibration.
Technical indicators
Power: AC220V、50Hz
Power consumption: 50W
Instrument accuracy: 0.2 Class
Pressure resolution: 0.001MPa
Pressure calibration range: 0~1MPa
Temperature resolution: 0.1°C
Environmental scope: -20℃~80℃
Ambient humidity: £90%RH
Communication mode: USB 2.0
Calibration object: single alarm, single latch, single alarm and single latch, single alarm and double latch
Display mode: 320 × 240 LCD
Operation mode: rotate mouse input
Printer: high speed micro printer
Printing method: English printing
Storage capacity: store 50 sets of test results
Dimensions: host: 365×300×220(mm3)
Accessory: 400×370×200(mm3)
SF6 gas density display mode: pressure under the tested environment, equivalent pressure at 20 ℃.
Weight:8kg
Service commitment
Pre-sale service commitments

Sale service commitments

Sale service commitments