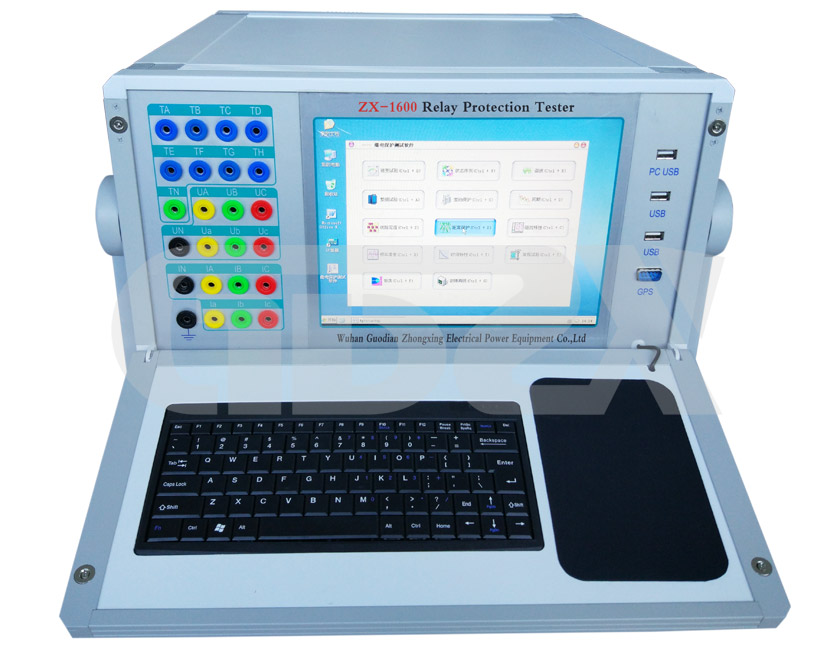 ZX-1600 Microcomputer Relay Protection Tester
ZX-1600 microcomputer relay protection Tester adopts high performance IPC as the host, Window XP operating system, device panel with large size and color TFT display, industrial keyboard inside, the front panel is provided with a plurality of USB which is convenient for data access, data communication and software upgrades.
The whole process and results of the experiment are displayed on the screen. The language is Chinese, The user interface is simple and clear intuitive and convenient. It easy Operation and direct display by industrial keyboard.
Features
1. Windown XP operation system, multiple keyboard shortcuts, user-friendly interface

2. High performance embedded IPC and high resolution TFT color LCD displaying massive information

3. ultra-thin keyboard and touchpad, operation just like ordinary PC

4. USB communication interface, convenient for data access and software maintenance

5. Test without auxiliary devices, auto display and record data, auto finish vectorgraph and characteristic curve

6. Advanced D/A converter which ensured high precision waveform, good linearity and nice transient response and amplitude-frequency characteristic

7. Direct output of ac voltage/current, dc voltage/current, variable amplitude/angle/frequency

8. high fidelity linear power amplifier, no wave distortion or peak clipping even when current reach the maximum

9. Switch value input terminal can Intelligently identify active or passive contact and polarity

10. Can scan all kinds of safety setting, real-time storage and print and vector diagram display

11. Carrying box design, little volume, good heat radiation, little weight

12. Self-protection function
Technical indicators
AC current source


Current source with six phase common neutral point,
current up/down time

<

100μs

Maximum output power
450VA/phase
Output accuracy
0.1A

~

1A: accuracy: ±5mA

1A

~

10A: accuracy: ±0.1%

10A

~

40A: accuracy ±0.2%

Resolution
0.1A

~

10A: 1mA

10A

~

40A: 5mA

Single phase continuous output time
1A

~

10A: No limit

10A

~

20A: ≥90sec

20A

~

30A: ≥20sec 30A

~

40A: ≥15sec

AC voltage source


Voltage source with six phase common neutral point,
current up/down time

<

100μs

Maximum output power
≥75VA/phase
Output accuracy
1V

~

5V: ±5mV

5V

~

125V: ±0.1%

Resolution
1V

~

5V: 1mV

5V

~

125V: 5mV

DC current source
Single phase output range
-10A

~

+10A or 0

~

20A

Maximum output power
300VA/phase
Output accuracy
±0.1A

~

±2A: ±10mA

±2A

~

±10A: ±0.2%

Resolution
5mA
DC voltage source
Output range
-150A~+150V or 0

~

300V

Maximum output power
≥100VA
Output accuracy
±1V

~

±5V: ±10mV ±5V

~

±150V: ±0.2%

Resolution
±1V

~

±5V: 5mV

±5V

~

±150V: 10mV

AC voltage current source angle
phase angle range
0°

~

360°

Accuracy
±0.1°
Resolution
0.01°
AC voltage current source frequency
range
1

~

2000Hz

can overlap 2~20 order harmonic with any amplitude and direct current
Output accuracy
1Hz

~

65Hz ±0.001Hz

65Hz

~

2000Hz ±0.02Hz

Resolution
0.001Hz
Timing accuracy
1ms

~

1S ±1ms

1S

~

999999S ±0.2%

Input switch
16 independent switch contact input, auto identify polarify of the active contact
Output switch
8 pairs programmable idle contact output
contact capacity: 250VDC, 0.5A or 250VAC

,

0.5A

synchronism
voltage current synchronism ≤10μS
Power supply
AC input voltage
Rated value: 220V ± 10%
Reference value: 220V ± 2%
AC power frequency
Rated value:50Hz ± 10%
Reference value:50Hz ± 2%
Working environment
environment temperature
-

10

℃~

+40

℃

relative humidity
≤90%
atmospheric pressure
80

~

110kPa
Service commitment
Pre-sale service commitments

Sale service commitments

Sale service commitments