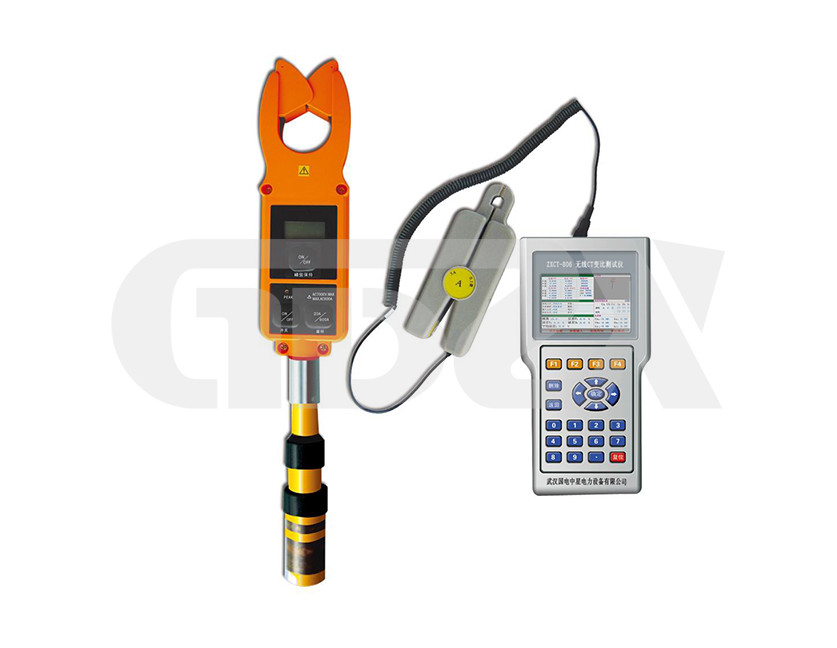 ZXCT-806 Wireless CT Transformation Ratio Tester
ZXCT-806 wireless CT transformation ratio tester is suitable for on-line 35kV and below high and low voltage measurement device current transformer transformation ratio measurement. It is used for 10kV switchgear current loop inspection device to realize one-stop inspection of CT transformation ratio, polarity, loop impedance, secondary wiring correctness and other testing items.
Features
1. Using 32-bit high-speed DSP as the main controller, providing high-speed data processing and graphics processing capabilities; using 2-way 16-bit A / D sampling chip to improve the measurement accuracy.

2. Equipped with 3.5-inch true color LCD display, the display is clear and there are no environmental restrictions.

3. It can measure the transformation ratio of high and low voltage current transformers with power on.

4. The high-voltage current signal uses wireless transmission to ensure the safety of operation.

5. The 3-51 harmonic test can be performed on the secondary current.

6. Waveform test can be performed on the secondary current and displayed in real time.

7. Both the host and the high-voltage clamp meter are powered by rechargeable batteries, and can work continuously for 8 hours on a single charge.
Technical indicators
1. The barrier free transmission distance of HP clamp meter is 500m
2. Current range: (users can choose according to their needs)
High pressure clamp: 600A
CT secondary side clamp table: 5A
3. Transformation ratio measurement range: 1 ~ 999
4. Voltage input: 0-200V
5. Measurement accuracy: high voltage current 0.5%; low voltage current 0.5%; transformation ratio 0.5%
6. Withstand voltage: 70000V / min
7. Power consumption of the whole machine: < 3VA
Service commitment
Pre-sale service commitments

Sale service commitments

Sale service commitments