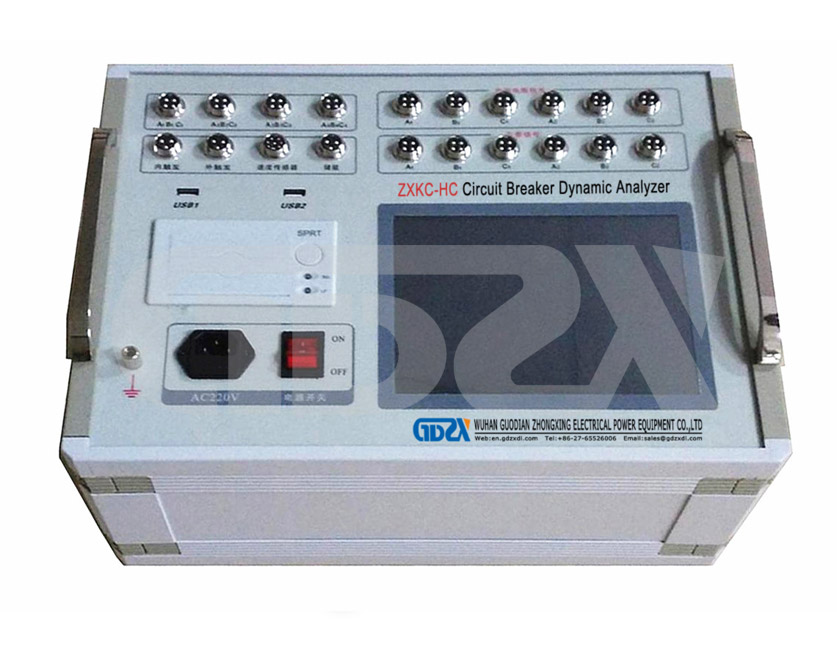 ZXKC-HC Circuit Breaker Dynamic Analyzer
High voltage switch dynamic characteristics tester is specially developed and produced to test the dynamic characteristics of various high voltage switches, such as oil switches, vacuum switches and sulfur hexafluoride switches. It is equipped with 8.4 inch color display, windows system, friendly interface, touch panel, suitable for on-site work
Features
1. 8.4"LED panel, windows operation system, humanized operation interface, visualized interface, touch screen, all these are handy for use.

2. High-speed thermal printer is used for printing test data on site.

3. Interior integrated operational power supply, without needing on-site secondary power supply, is convenient and easy to use on site. It provides the range adjustable power supply from DC20~265V with 20A of current. Randomly set the operation voltage values of breaking and closing coil, and conduct an low voltage operation test of breaker.

4. Equip with liner sensors, rotation sensors, universal sensors and holders, and dedicated fixed multifunction connections, which could be easy to mount.

5. It is fit for all types about SF switch, GIS composite apparatus, vacuum switch, oil switch, produced in domestic or abroad.

6. Obtain overall data and graphs by one on-off action.

7. Mainframe can store 6,000 groups of on-site test data (support external memory card), internal real time clock, easy to file.

8. Equip with USB interface, which could save data directly in USB disk, and upload in computer to analyze and preserve.

9. Simultaneously measure 12-way metal contacts.

10. Generate standard envelop curves through the test data of switch testing from several instruments (2~10,then conduct analyses and comparisons, and switch vibration frequency analyses as well.

11. Internal anti-jamming circuit could meet 500KV inner reliable use in transformer substation.
Technical indicators
Time measurement
Breakswitch:12channels
fixedseparating:6 channels
Graphite switch: 6 channels
fixed opening (closing) time
Opening (closing) inner-phase with asynchronism
Opening (closing) interphase with asynchronism
Opening (closing) bounces time (and times)
Testing range
0.01ms

~

18000ms. resolution:0.01ms

velocity measurement range
Testing range: 0

~

1300Ω, resolution: 1Ω, error: 1%

1mm sensor 0.01~25.00m/s,
instant opening (instant closing) velocity
Appointed time slot( stroke segment or
angle segment) average velocity
0.1mm sensor 0.001~2.50m/s
0.5 dgree angle sensor:1Cycle /0.5°
stroke measurement
moving contact stroke (stroke)
contact stroke (opening)
overshoot stroke or retrace (over travel)
Sensor measurement range
liner sensor :50mm, resolution: 0.1mm,
360 wire sensor

:

360°

,

resolution:0.5 degree,

Selection sensor

:

300mm

、

1000mm

、

Acceleration sensor

current
maximum current output:20A
Instrument power supply
AC/DC 220V ± 10%

;

50Hz ± 2%

DC power supply
voltage output: 35~265V continuous adjustment,
current output: ≤ 20A(short time )
disconnecting switch measurement range
(1). Voltage output: DC35~265V(adjustable)
(2). Current output time:, 0.01~20 s (settable)
(3). contact signal maximum acquisition time: 20s
(4).Measurable contact closing, opening time, three-phase asynchronism, bounce time and frequency .
Host size
380×280×170mm
operating environment
-10~+50 centigrade
relative humidity
≤90%
Service commitment
Pre-sale service commitments

Sale service commitments

Sale service commitments