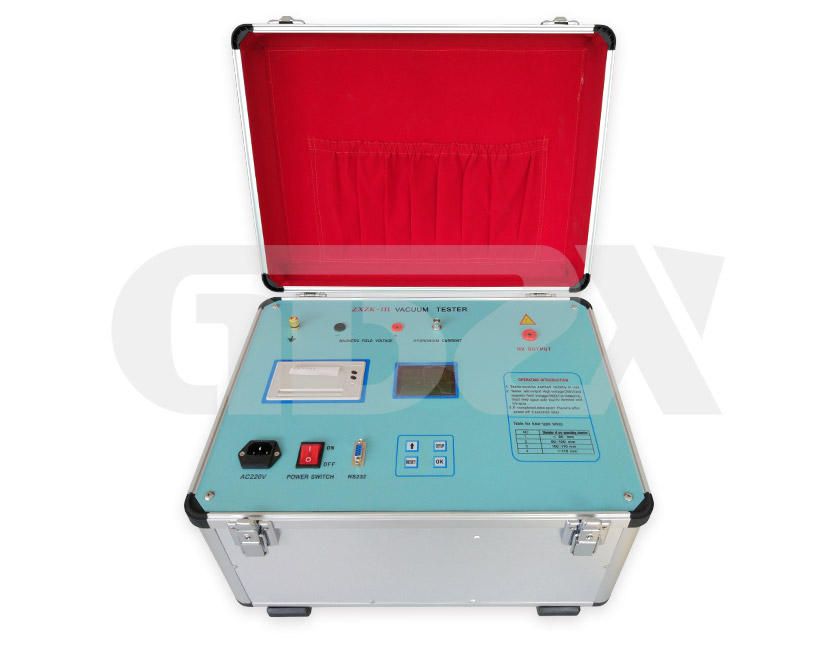 ZXZK-III Vacuum Switch Vacuum degree Tester
Vacuum Switches is designed to measure the vacuum degree of vacuum switches. It uses an electromagnetic discharge measuring method, to ensure the testing results accurate and reliable.The testing data can estimate vacuum switch's health and life span.
Features
1. Electromagnetic measuring method, Accurate and Reliable.

2. No need to dismantle the vacuum switch in measurement.

3. Quantitative testing, high precision and high stability.

4. LCD display, simple menu operation.
Technical indicators
1. Power supply: AC220V15%,50Hz
2. Testing range: 10-4~10-1Pa
3. Electric field voltage: 20kV
4. Magnetic field voltage: 1600V
5. Accuracy: 5%
6. Operating condition: -10℃~40℃
7. Size: 460×335×330mm
8. Weight:12kg
Service commitment
Pre-sale service commitments

Sale service commitments

Sale service commitments