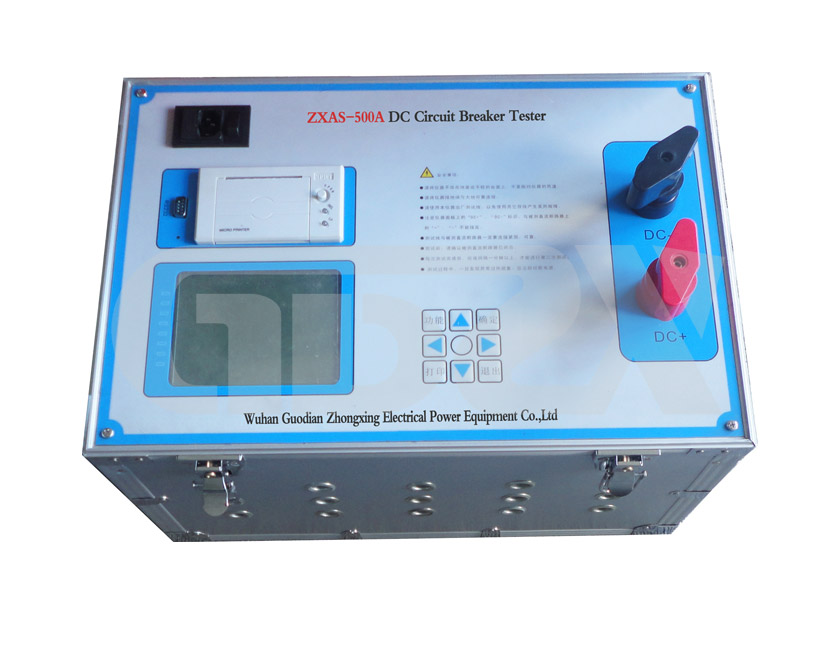 ZXAS-500A DC Circuit Breaker Tester
This instrument is designed for testing DC circuit breakers at rated current of 1A-500A
Features
1. The instrument can be used separately or linked to PC.

2. 320*240 LCD screen, thermal printer, interactive keyboard operation, and intelligent operation system.

3. Power electronics controlling technique has been adopted to output high current, with high speed, high precision and continuous adjustability.

4. Current range can be automatically switched by multiple high precision sensors.14 digit AD acquisition chip of high capacity.

5. Automatic data storage. Be capable of saving 200 testing results, which will not lose in power failure.

6. Two options: ampere-second characteristic test or through current characteristic test.

7. When linking to PC, it is available to do following operations, such as controlling the instrument, data importing, data saving, data report and data graph generation.

8. Protection functions for overheat, over-current and over voltage.

9. Anti-interference capacity and good EMC(electromagnetic compatibility).
Technical indicators
1. Power supply: AC220V±10%, 50Hz±0.5Hz
2. Testing current range: 0-500A
3. Testing current ripple coefficient: <5%
4. Stability of output current: ≤0.5%
5. Time:0-9999s; Time resolution(min.): 0.001s
6. Environmental temperature: -20--50℃.
7. Size: 470*320*460mm
8. Weight: 25kg
Service commitment
Pre-sale service commitments

Sale service commitments

Sale service commitments