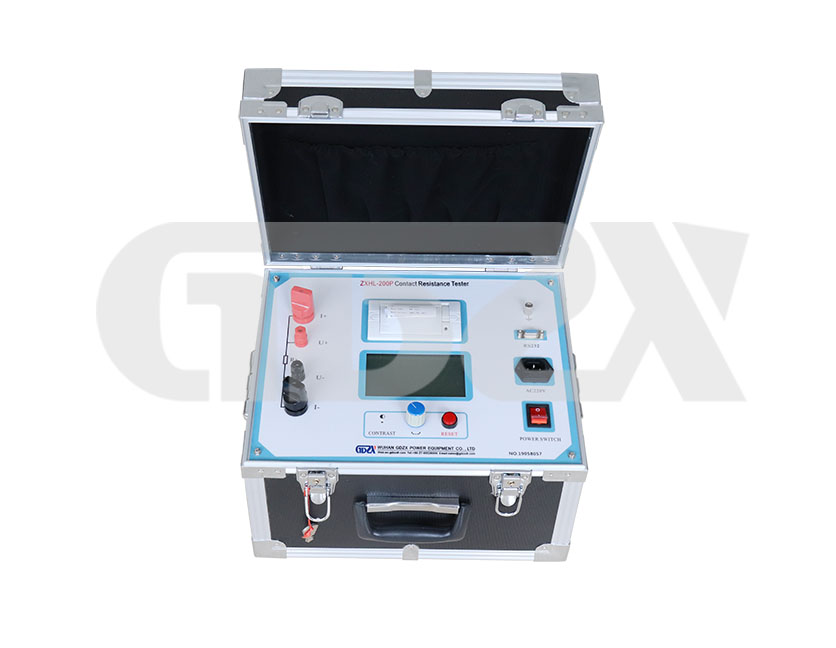 ZXHL-200P Contact Resistance Tester
ZXHL-200P Contact Resistance Tester is designed for measuring contact resistance of Switching Control Equipment, using High-frequency switching power supply technology and digital circuit technology. It is high precision and good stability and can meet most power systems' requirements in high-voltage switches maintenance and high-voltage switches factory contact resistance measurement.
Features
1.For latest power supply technology, the tester can continuously output high current which overcomes the weakness of instantaneous current produced by pulsed power. It can effectively breakdown/puncture the oxide layer of the switches and then get precise

2.High stability. under strong interference, the last number displayed by the LCD is within the range of ±1d, with steady reading and good reproducibility

3.High precision: adopts double channels high-speed 16bits Σ-Δ AD to sample, digital signal processing technique, the maximum resolution up to 0.01μΩ.

4.Intelligent: use high performance CPU, system can switch the measurement range according the size of the signal during testing to ensure the accuracy. The over-temperature protection circuit can auto stop output the current when the device exceeds the rated temperature to ensure the safety.

5.High quality: key parts are imported components, with temperature compensating circuit in perfect design which eliminates the effect of ambient temperature

6.Powerful: several modes of currents for option

7.Friendly man-machine interface: enter the data by rotating mouse, easy and convenient, can set the data, time by yourself, save and print the test results in time.

8.Several communication modes: can connect and upload the data to the PC by RS232 or USB, for testing personal further analysis and processing.

9.Easy to use: small in volume, light in weight.
Technical indicators
1.Measuring range: 0~2999.9μΩ
2.Resolution: 0~99.99: 0.01μΩ, 100.0~2999.9: 0.1μΩ
3.Measuring current: DC50A、100A、150A、200A fixed output
4.Accuracy: ±(0.5% rd+2d)
5.Continuous working time: 5s~599s
6.Display: Large LCD
7.Communication interface: USB or RS232 serial port
8.Working power supply: AC220V±10% 50Hz
9.Total power: 1200W
10.Maximum storage: 200 records
11.Working environment
1)Temperature:-10℃~40℃
2)Humidity:≤80 %RH
12.Dimension: 380×300×260mm3
13.Weight: 10kg (accessories excluded)
Service commitment
Pre-sale service commitments

Sale service commitments

Sale service commitments