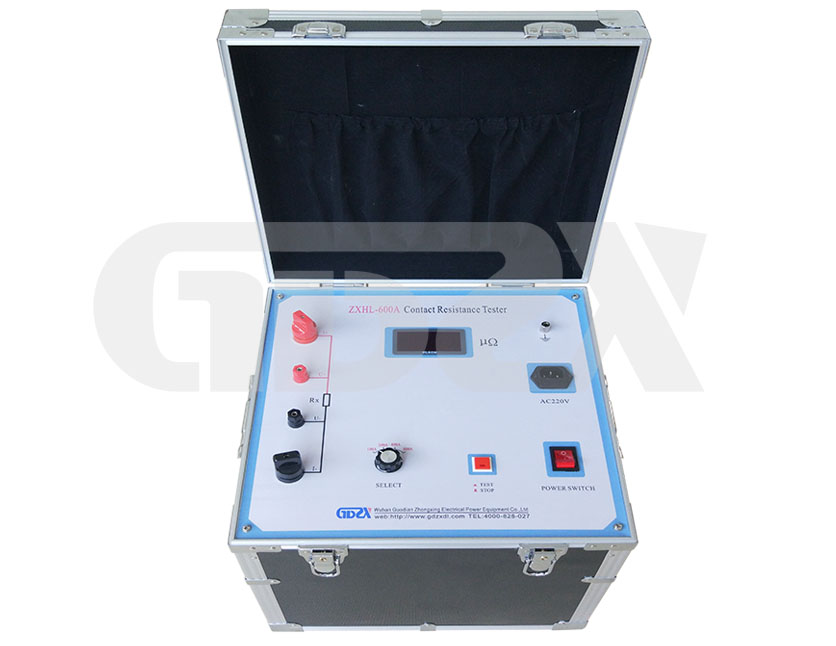 ZXHL-600A Contact Resistance Tester
ZXHL-600A Contact Resistance Tester is designed for measuring contact resistance of Switching Control Equipment, using High-frequency switching power supply technology and digital circuit technology. It is high precision and good stability and can meet most power systems' requirements in high-voltage switches maintenance and high-voltage switches factory contact resistance measurement.
Features
1. Large current: sustainable output test current from a constant current source, which overcome the malpractice of instantaneous current of the impulse type power, can effectively break through the oxide film of the switch contact, get accurate test results.

2. High stability. under strong interference, the last number displayed by the LCD within the range of ±1, with steady reading and good reproducibility

3. Long service life: use high precision resistsance to eliminates the effect from ambient temperature

4. Easy to use: small in volume, light in weight.

5. Optional to buit in printer or without printer.
Technical indicators
1.Measurement range:1~1999.9μΩ
2.Resolution:1μΩ
3.Measured current (customerized):DC 100A、200A、400A、600A
4.Accuracy:0.50%
5.Continuous working time:100A:600S,200A:60S,400A:10S,600A:10S
6.Display:3½ LED
7.Power supply:AC220V±10% 50Hz
8.Service conditions
1)Temperature -10℃~40℃
2)Humidity:≤80%RH
9.Dimension:350×350×510 mm
10.Weight:30Kg(not including accessories)
Service commitment
Pre-sale service commitments

Sale service commitments

Sale service commitments