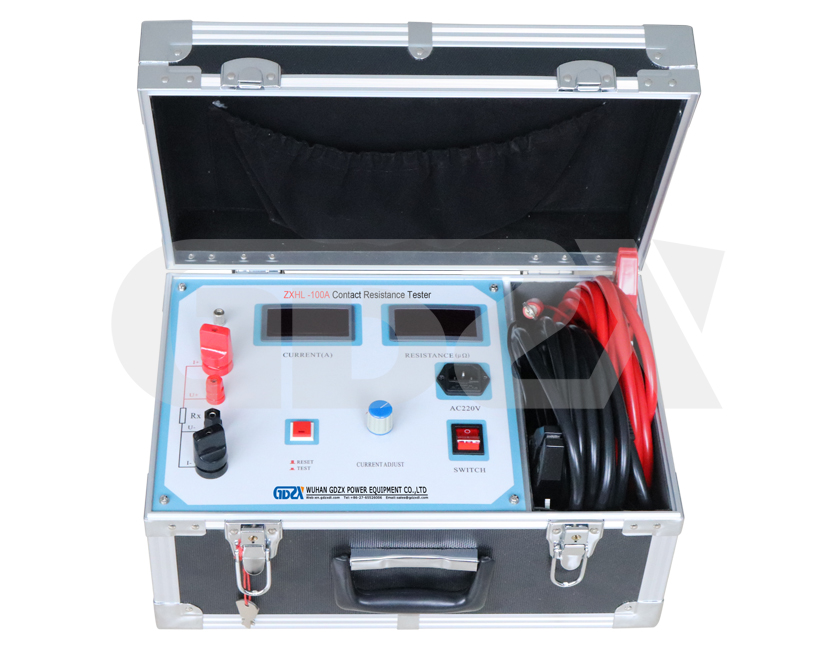 ZXHL-100A Contact Resistance Tester
ZXHL-100A Contact Resistance Tester measures up to the latest power system standards--DL/T845.4-2004 designed for measuring loop resistance of Switching Control Equipment using High-frequency switching power supply technology and digital circuit technology. Test current of the Tester is DC 100A, which is recommended in the national standards. The tester can measure the loop resistance at this value and display the result in digital. It is high precision and good stability and can meet most power systems' requirements in onsite high-voltage switches maintenance and high-voltage switches factory loop resistance measurement.
Features
1. High current: For latest power supply technology, the tester can continuously output high current which overcomes the weakness of instantaneous current produced by pulsed power. It can effectively breakdown/puncture the oxide layer of the switches and then get precise results.

2. Strong anti-interference ability: The last number of test data will stably show in the LCD screen only with ±1 error even in strong Interference situation.

3. Long service life: All the precise resistances used in the tester can reduce the temperature's impact on the measurement results and military connectors can enhance vibration resistance.

4. Convenience: Small size, light weight.
Technical indicators
1. Measurement Range:1~1999μΩ
2. Resolution:1μΩ
3. Test Current:DC 100A
4. Measurement Accuracy:0.5%±1d
5. Display:current: three and a half LCD
6. Power Supply:AC220V±10% 50Hz
7. Work Environment:
1) Temperature: 10℃~40℃
2) Humidity:≤80 %RH
8. Dimension:300×270×200 mm
9. Weight:5Kg(Accessories excluded)
Service commitment
Pre-sale service commitments

Sale service commitments

Sale service commitments