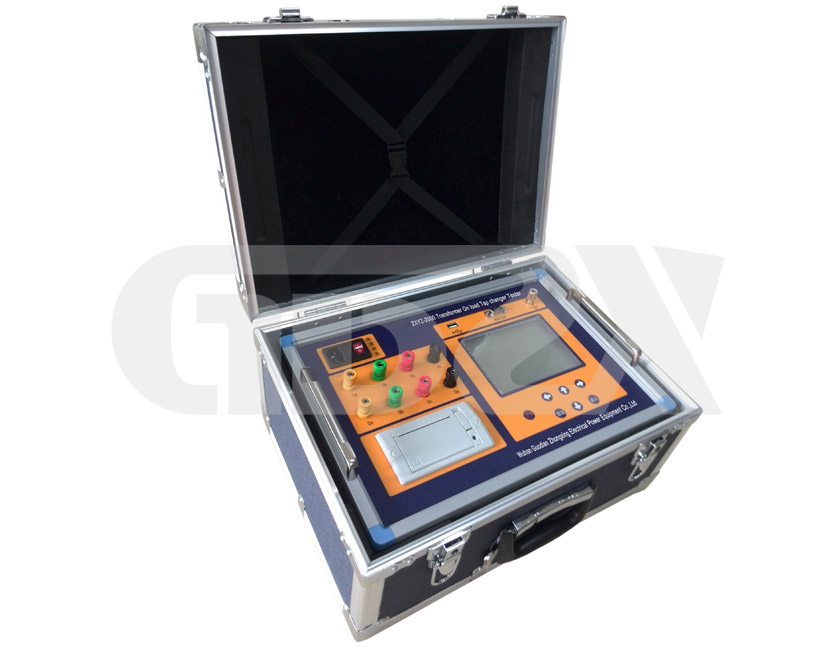 ZXYZ-2000 Transformer On load Tap changer Tester
This tester is mainly used to measure the transformer on-load tap-changer transition waveform, transition time, the instantaneous transition resistance, three-phase synchronization and so on.
The instrument features highly intelligent, English menu prompts, simple operation. Instrument small size, light weight, strong anti-interference ability. It is ideal instrument to ensure safe production and good quality in power plants units, transformer manufacturing industry.
Features
1. Large output current, light weight.

2. Open circuit voltage 28V, 1A gear for testing 10Ω transition resistance, 0.5A, 0.3A for larger transition resistance.

3. Perfect protection circuit, reliable to use.

4. Vertical chassis structure, 5.7-inch large LCD display, easy site operation.

5. U disk storage function
Technical indicators
1. Output current: 1.0A, 0.5A, 0.3A gears
2. Resistance range: 1.0A: 0.1 ~ 10Ω; 0.5A: 5 ~ 20Ω; 0.3A: 10 ~ 40Ω.
3. Resistance measurement accuracy: ± (reading × 5% + 5 words), resolution: 0.01Ω.
4. Transition time measurement range: 1 ~ 250mS.
5. Transition time measurement accuracy: ± 1mS, resolution: 0.1mS.
6. Sampling frequency: 10K.
7. Storage: U disk storage, local storage.
8. Operating temperature: -20 ℃ ~ +50 ℃.
9. Environmental humidity: ≤ 90% RH, no condensation.
10. Working power: AC220V ± 10%, 50Hz ± 10%
Service commitment
Pre-sale service commitments

Sale service commitments

Sale service commitments