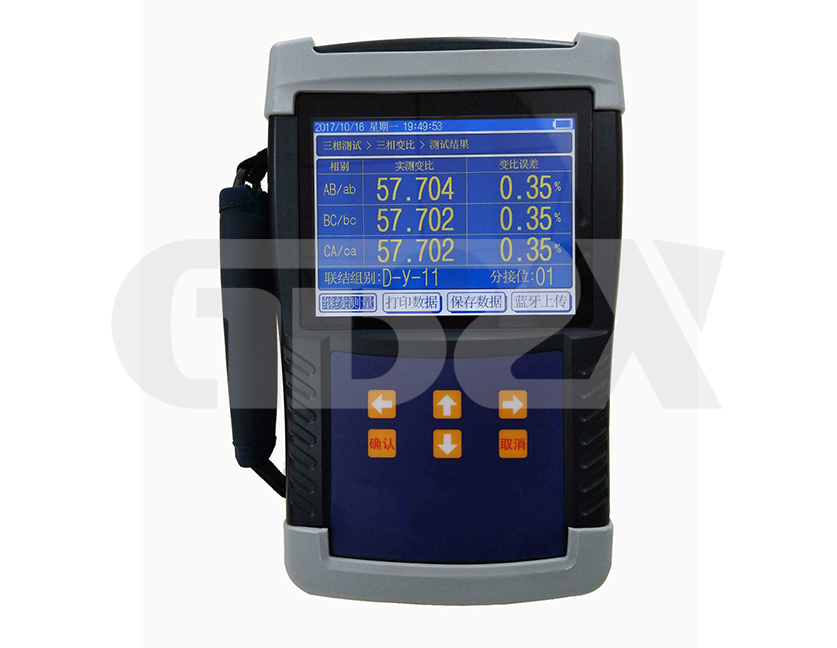 ZX-SBC Hand-held Transformer Ratio Tester
ZX-SBC hand-held transformer transformer ratio tester overcomes the shortcomings of traditional transformer ratio bridge test. The screen adopts large screen high-resolution LCD, and the power supply adopts lithium battery, which is convenient for field use. It has English menu prompt function, easy and intuitive operation. It can complete three phase transformation ratio test at one time, with fast test speed and high accuracy.
Features
1. AC and DC dual use: lithium battery power supply or 220V AC charger power supply adaptive.

2. Once charging, it can continuously measure the ratio group of 100 transformers.

3. Intelligent charging management, remaining power display, low power alarm, backlight automatic adjustment, power saving.

4. Full three-phase sinusoidal inverter output, output voltage automatic regulation, with soft start, soft stop function, so the test speed is fast, high precision.

5. Three phase transformer, single-phase transformer, PT, Z-type transformer transformation ratio, group, polarity test function.

6. It has the function of blind test, that is, the transformation ratio and group test are carried out when the high and low voltage connection modes are not known.

7. CT transformation ratio polarity test function.

8. It has angle difference test function in single-phase test.

9. Tap gear can be tested to 197.

10. The test range is wide and the height can reach 10000.

11. High and low voltage reverse connection protection function.

12. Output short circuit protection function.

13. Clock and date display without power failure; data storage mode is divided into local storage and USB disk storage, in which the local storage can store 500 pieces of test data, and the local storage can be transferred to the USB disk; the USB disk storage data format is word format, which can be edited and printed directly on the computer.

14. Small size, light weight, easy to carry and use.
Technical indicators
1. Range: 0.9-10000
2. Accuracy: ± (reading × 0.1% + 2 words) (≤500)
± (reading × 0.2% + 2 words) (>500, ≤ 3000)
± (reading × 0.3% + 2 words) (>3000)
3. Resolution: 0.9-9.9999 (0.0001) 100-999.99 (0.01) 10000 and above (1)
10~99.999(0.001) 1000~9999.9(0.1)
4. Working power supply: internal battery or external charger, charger service conditions, input 100-240Vac, 50 / 60Hz
5. Charging time: about 5 hours
6. Instrument weight: 1.34 kg
7. Instrument volume: 246mm (L) × 156mm (W) × 62mm (H)
8. Service temperature: - 10 ℃ ~ 50 ℃
9. Relative humidity: < 90%, no condensation
Service commitment
Pre-sale service commitments

Sale service commitments

Sale service commitments