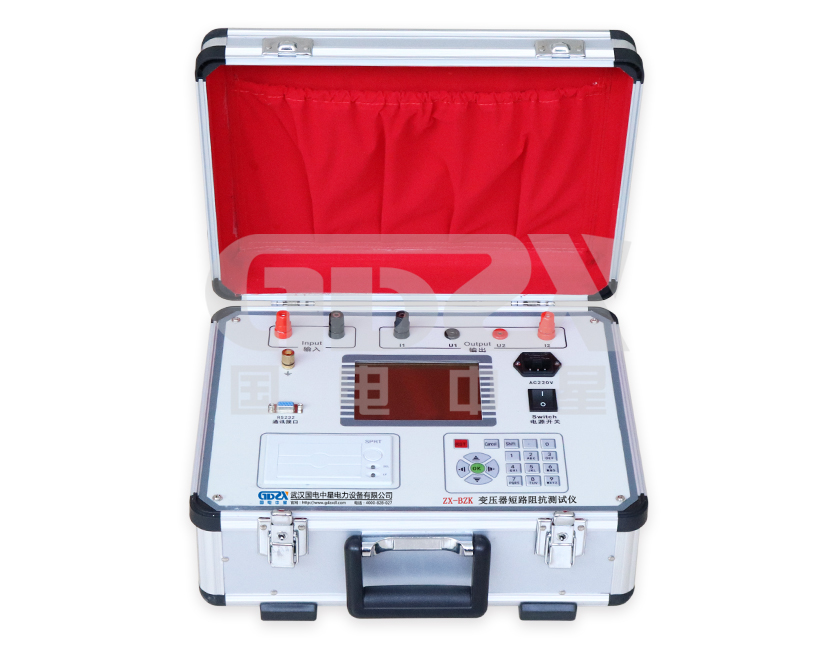 ZX-BZK Transformer Short-circuit Impedance Tester
Low-voltage short-circuit impedance test is to the most direct way to check the deformation of the winding after transformer suffered from short-circuit current or mechanical collision during transportation and installation, the test is important to help determine whether the transformer can be put into operation, and whether disintegration is necessary for inspection. ZX-BZK transformer short-circuit impedance tester comes with adjustable power output, particularly suitable for 110kV and above main transformer on site measurement.
Features
1. With switching power supply, just one time wiring connection can finish measurement for all the windings, no matter it is single phase transformer or three phase transformer

2. Single phase measurement mode. To three phase transformers, each phase short circuit impedance, reactance, inductance can be obtained automatically after three times boosting.

3. Adopts phase locking technology, synchronize sampling AC signal which ensures accuracy

4. current, voltage and power, frequency can be measured at the same time

5. Support external connection with CT/PT to extend measuring range

6. With memory to store data, with printer

7. LCD display with operation menu, data can be read clearly even under direct sunlight
Technical indicators
1.Measurement accuracy: Voltage, current 0.2%
2.Power: COSφ>0.1 0.5%; COSφ≤0.1 1.0%
3.Impedance: COSφ>0.1 0.5%; COSφ≤0.1 1.0%
4.Voltage measurement range: AC 3V-300V
5.Internal power supply output range: voltage 0-250V, current 0-10A
6.Current measuring range: AC 0.2A-20A
7.Working temperature: -10℃-50℃
8.Humidity: 0-80%
9.Power supply: AC220V±10%,50Hz±1Hz
10.Dimension: 360×220×150mm
11.Weight: about 5kg
Our products are manufactured in strict accordance with international and national standards and industry regulations. Our products passed the ISO9001 international quality management system and got certificate by the national, provincial and municipal electric research institutes, metrology centers and power authority departments. We also obtained license for manufacturing Measuring insturments, fully meeting GB / T19001-2008 quality management system requirements, GB / T24001-2004 environmental management system requirements, GB / T28001-2011 occupational health and safety management system requirements.
Service commitment
Pre-sale service commitments

Sale service commitments

Sale service commitments