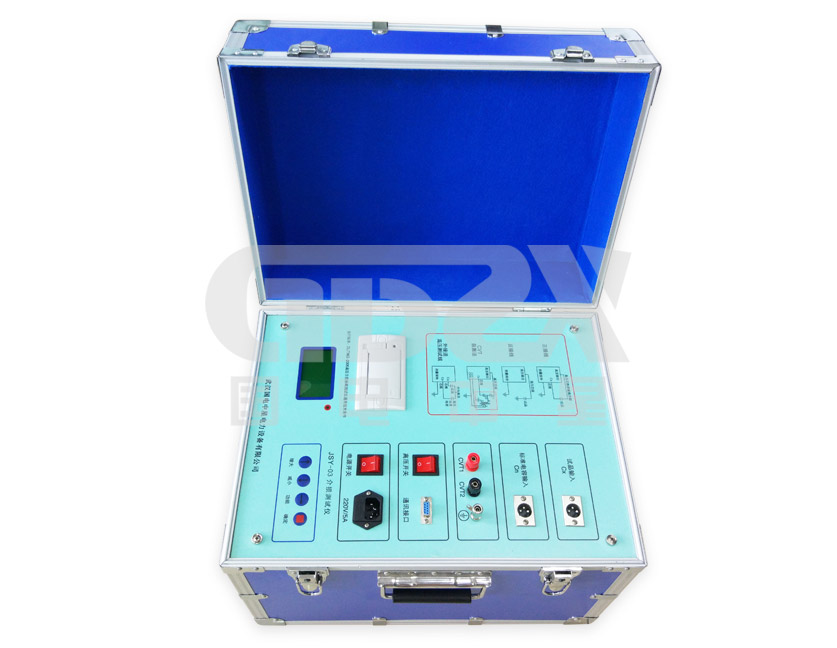 JSY-03 Transformer Tan Delta Tester
This tester adopts modern technology to achieve automatic frequency conversion, analog-digital conversion and calculation, features strong anti-interference ability, fast test speed, high precision, automation, easy operation. Its high-power switch supply can output 45Hz and 55Hz pure sine wave, boost automatically with voltage up to 10kV. As the power frequency disturbing can be eliminated, it is suitable for field test in power plants or other places with strong electromagnetic interference, now widely used for dielectric Loss factor (tgδ) measurement of transformer, bushing, capacitor, arrester and other equipment.
Features
1. Complex number current method to measure capacitance, tgδ, and other parameters. Auto, High accuracy

2. Reliable measuring data in heavy electromagnetic interference environment

3. Large screen LCD display, menu prompts, easy reading and easy operation
4. Microprocessor control, auto measurement ( after choose measuring methods)

5. Compact structure with standard capacitor and high voltage power supply inside, easy wiring.
6. High accuracy, oil dielectric loss measurement to be done by matching with oil cup and test lines

7. CVT self-excited test function, one time measurement to get C1, C2 capacitance and dielectric loss
8. Grounded specimen test adopts ivddv technology to get stable measurement data
9. Low-voltage shielding function, when 220kV CVT bus is grounded, C11 can be disconnected for 10kV GST

10. HV (+10kV) dielectric loss factor test function ( after match with HV transformer or resonance devices)
11. Grounding protection function, over current protection function

12. electric shock protection function, auto cut off power when operator accidentally get an electric shock.
Technical indicators
1.Accuracy: Cx: ±(reading×1%+1pF), Tgδ: ±(reading×1%+0.00040)
2.Anti-interference index: within 200%
3.Capacitance range:
1)Internal HV: 3pF-60000pF/10kV 60pF-1μF/0.5kV
2)External HV: 3pF-1.5μF/10kV 60pF-30μF/0.5kV
4.Resolution: Maximum 0.001pF, 4 valid figures.
5.tgδ range: unlimited, resolution 0.001%, auto identifying specimen to be capacitor, inductor or resistor.
6.Test current range: 10μA-1A
7.Internal HV: voltage setting range: 0.5-10kV
1)Maximum output current: 200mA
2)Buck-boost method: continuous smooth regulation
3)Test frequency: 45, 50, 55, 65Hz single frequency, 45/55Hz, 55/65Hz, 47.5/52.5Hz auto dual frequency
8.External HV:
1)In case of UST, maximum test current: 1A, power frequency or variable frequency 40-70Hz
2)In case of GST, maximum test current 10kV/1A, power frequency or variable frequency 40-70Hz
9.CVT self-exciting low voltage output: Output voltage 3-50V, output current 3-30A
10.Measuring duration: About 40s, depending on measuring method
11.Input power supply: 180V-270VAC, 50Hz±1%, powered by main supply or generator
12.Computer interface: Standard RS232 interface
13.Printer: WH-A7 mini-type thermal printer
14.Environment temperature: -10℃-50℃, Relative humidity: <90%
15.Overall dimension:460×360×350mm, weight:28kg
Our products are manufactured in strict accordance with international and national standards and industry regulations. Our products passed the ISO9001 international quality management system and got certificate by the national, provincial and municipal electric research institutes, metrology centers and power authority departments. We also obtained license for manufacturing Measuring insturments, fully meeting GB / T19001-2008 quality management system requirements, GB / T24001-2004 environmental management system requirements, GB / T28001-2011 occupational health and safety management system requirements.
Service commitment
Pre-sale service commitments

Sale service commitments

Sale service commitments