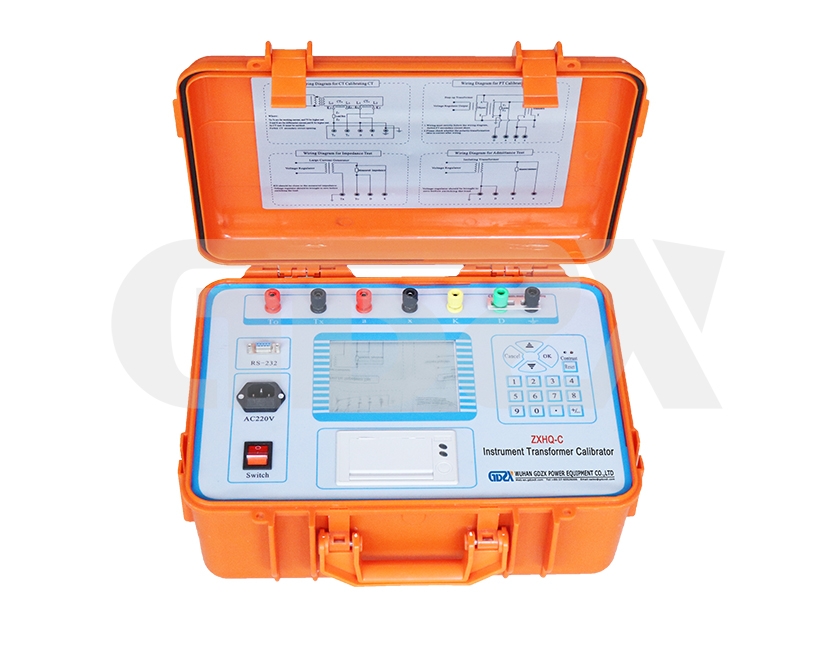 ZXHQ-C Transformer Calibrator
ZXHQ-C transformer calibrator is a new kind of automatic testing instrument. It uses electronic technology to directly decompose the error signal of the transformer, and after proper calculation, the percentage point, in-phase error and orthogonal error of the transformer are displayed in digital quantity at the same time. The instrument has the advantages of simple operation, direct reading, rapid measurement, low power consumption and labor intensity, small volume, light weight, easy carrying and field test, and can be tested under 5% rated working current (voltage).
Features
1. With 320 × 240 lattice liquid crystal, it has a large visual range and long life backlight lighting, which is convenient to use.

2. All English operation interface, beautiful interface.

3. The dial indicator, ratio difference and angle difference are displayed in large font, which is convenient for users to observe.

4. Fully meet the requirements of JJG314-1993 and JJG314-1994, automatic sampling.

5. Automatic judgment of polarity error, ratio error.

6. The upper computer software has the open function of virtual instrument.

7. Completely solve the problem of S-level measurement.

8. Automatic range change.

9. The unique circuit and DSP technology are combined perfectly to eliminate the instability of the resistance capacitance phase-shift circuit.
Technical indicators
Use environment:
1. Temperature: 5 ℃ -- 40 ℃ relative humidity: < 80% (25 ℃) altitude: < 2500m
Power frequency: 50Hz ± 0.5Hz power voltage: 220V ± 5V
2. Measurement range:
In phase component (%): 0.0001 ~ 200.0 resolution: 0.0001
Orthogonal component (min): 0.001-700.0 resolution: 0.001
Impedance (Ω): 0.0001 ~ 20.0 resolution: 0.0001
Mobility (MS): 0.0001 ~ 20.0 resolution: 0.0001
3. Basic error:
In phase component: Δ x = ± (x × 2% + y × 2%) ± DX (with level 1 option)
Orthogonal component: Δ y = ± (x × 2% + y × 2% × 34.48) (Level 1 optional)
"X", "Y" - display value of the instrument
"DX, Dy" - quantization error of instrument Dx = 2, Dy = 5
4. Dial indicator: level 1.5 (optional level 1)
Scope of work:
1. Current: (1% - 149%) in (in = 5a)
(5%-149%)In(In =1A)
2. Voltage: (5% - 149%) UN (UN = 100V, 150V, 100V / √ 3)
(5%-149%)Un(Un =100V/3)
Workload:
1. Current: TO to TX < 0.12Ω cos Φ = 1
2. Voltage: A to X < 0.25va (100V)
5. Power consumption: < 15va (without micro printer)
< 25VA (with micro printer)
6. Harmonic suppression ratio: > 40dB
7. Boundary dimension: 260 × 350 × 150 mm
8. Weight: 6kg
Service commitment
Pre-sale service commitments

Sale service commitments

Sale service commitments