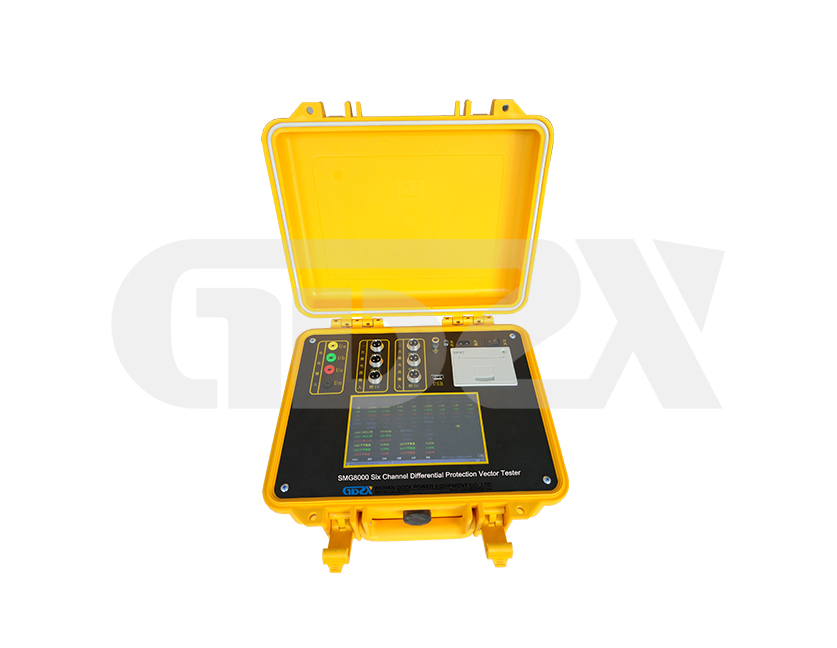 SMG8000 Six Channel Differential Protection Vector Tester
SMG8000 six channel differential protection vector tester is a kind of instrument which can measure primary side current, secondary side current and secondary side voltage at the same time, and then make analysis and report. The instrument can analyze three-phase unbalance degree and hexagonal vector diagram by measuring primary side current, secondary side current and secondary side voltage, and can output word and Excel files without upper computer software, which is convenient for users Period processing report.
The instrument adopts high-precision data acquisition chip, with analog 24 bit ADC precision, DSP processing data, arm and TFT touch screen, display measurement data intuitively and conveniently.
Features
1. At the same time, measure the 1-3 AC voltage on the secondary side;

2. At the same time, measure 1 to 3 AC currents on the primary side;

3. At the same time, measure 1-3 AC current at secondary side;

4. Measure the phase between voltage, current and voltage (angle between primary and secondary current);

5. Measurement of power grid frequency;

Measurement of active and reactive power;

7. Measurement of power factor;

8. Three phase voltage and current unbalance detection;

9. Secondary side phase voltage range: 1-500v, secondary side current range: 1ma-10a, primary side current: 100ma-5a;

10. Display hexagonal vector diagram (mixed primary side and secondary side);

11. It is used as leakage current meter;

12. Low power consumption design, built-in rechargeable battery as backup power supply;

13. Automatic range, user-friendly design of mouse operation;

14. Data storage can be exported through U disk, which is convenient for user data processing;

15. The field measured data can be printed out by micro printer;

16. Export files in word and excel format to facilitate printing reports.
Technical indicators
| | | | | |
| --- | --- | --- | --- | --- |
| Type | Range | Unit | Error | Resolution |
| Voltage | 1~500 | V | 0.5%×range | 0.01V |
| Primary current | 0.1~5 | A | 0.5%×range | 0.0001A |
| Secondary current | 0.001~10 | A | 0.5%×range | 0.0001A |
| Active power | 0.001~5k | W | 0.5%×range | 0.1W |
| Reactive power | 0.001~5k | VAR | 0.5%×range | 0.1VAR |
| Apparent power | 0.001~5k | VA | 0.5%×range | 0.1VA |
| Frequency | 45~65 | Hz | 0.1%×range | 0.01Hz |
| Phase | 0~360 | ° | ±1° | 0.1° |
Service commitment
Pre-sale service commitments

Sale service commitments

Sale service commitments