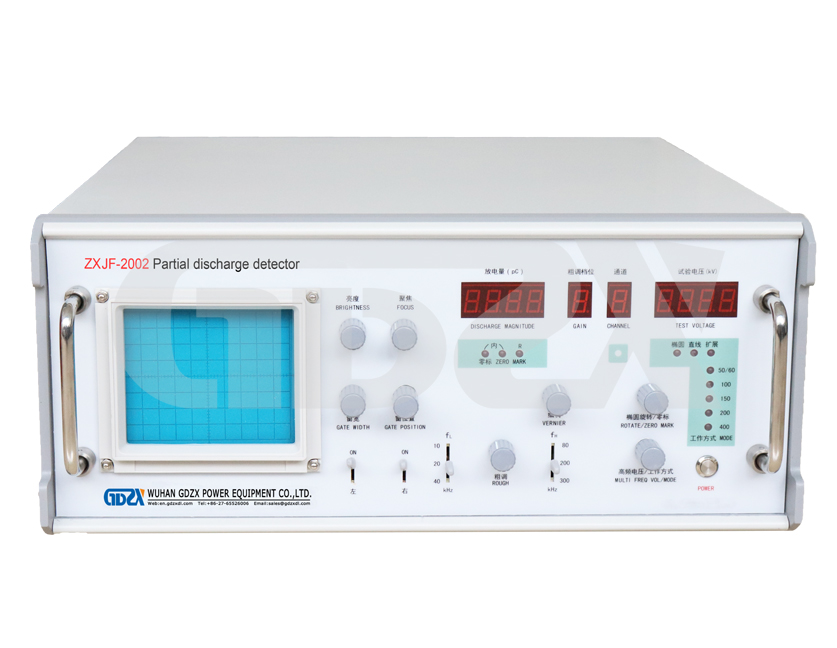 ZXJF-2002 Partial discharge detector
This tester is a portable multi-functional PD online detector, which is suitable for testing transformers, GIS, switch cabinet, power cables, lightning arrester and CT/PTs.
Features
1. High measuring sensitivity, wide application, high signal-to-noise ratio

2. Equipped with large screen oscillometer, clear display with high frequency oval sweep (uptake power less than 1VA), 9 groups of frequency bands, discharge impulse amount can be read directly

3. This detector usually work with Correcting impulse generator. It is widely applied in power stations, manufacturers and institutions.
Technical indicators
1. Tested product capacity: 6PF - 250μF.
2. See below table: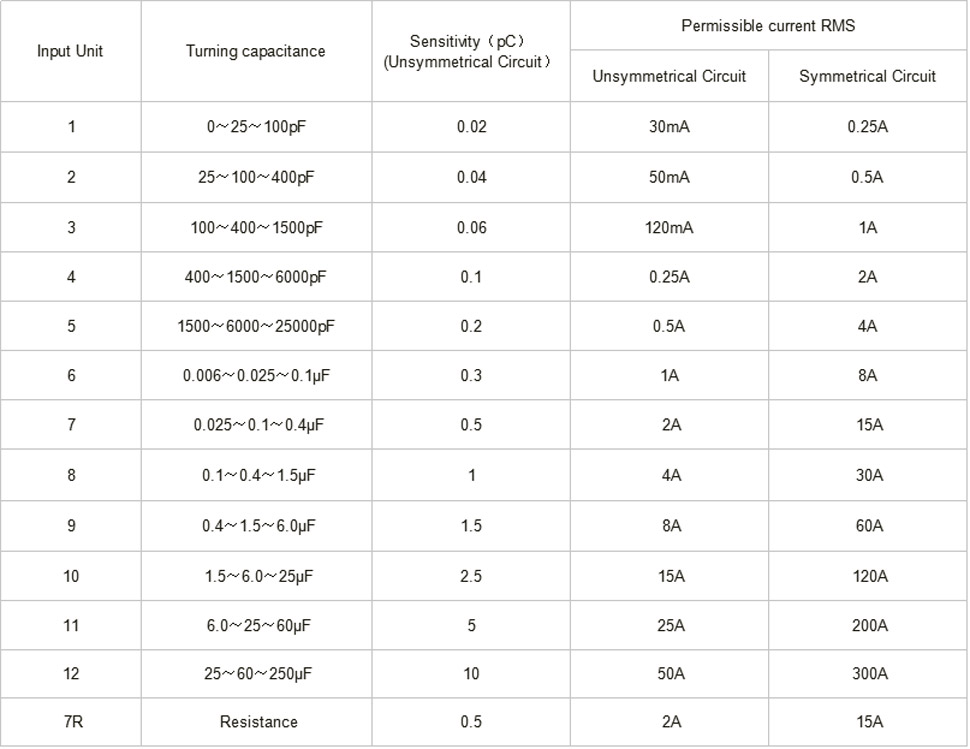 3. Oval Time Base:
Frequency: <50, 100, 150, 220, 400Hz
Ellipse Rotation: each gear 30°, 360°rotation can be made
Display: Oval –extend– straight line.
High-frequency time base elliptical input voltage 10~250V, intake power < 1 VA, with over-load protection
4. Display
124×10mm rectangle oscillometer, brilliant and focus adjustment button
5. Amplifier
1) 3dB low frequency band: 10KHZ, 20 KHZ, 40 KHZ (selectable),
2) 3dB High frequency band: 80 KHZ, 200 KHZ, 300 KHZ (selectable)
3) Regulation: coarse control- there are 6 gears for coarse tuning, the gain of each gear is 20±1db, fine control ≥ 20 db
4) positive and negative pulse response asymmetry<1dB
6. Time Window:
Window width : Adjustable range 15° ~ 150°;
Window position : Each window can be rotated 0°~ 170°;
Two time windows can be opened separately or simultaneously.
7. Discharge scale:
Linear pointer type headers: 0-100 error±5% (full scale)
Logarithm pointer type headers: 0-10-100 error ±5% (full scale)
Digital meter: 3 ½ LED display figures: 0-100 error ± 3% (full scale)
8. Testing voltage meter
Range : 100kV ( can expand )
Display : 3 ½ digit voltmeter indication
Accuracy: ±3%
9. Zero Mark function
10. Dimension: 530×550×220mm, Weight about 22 KG
Correcting impulse generator parameters:
1. Output electric charge :5pC、10pC、20pC、50Pc
2. Polarity: Positive or negative , Alternative
3. Repetition frequency: 1.2kHz
4. Frequency varying range: >±100Hz
5. Impulse setting edge time:<60nS
6. Impulse drop edge time: >100uS
7. Injection capacitance:10pF
8. Correcting charge error: Eq≤±10%
9. Dimension: 160×125×50mm3
10. Weight: 0.5kg
11. Battery: 6F22 9V
Service commitment
Pre-sale service commitments

Sale service commitments

Sale service commitments