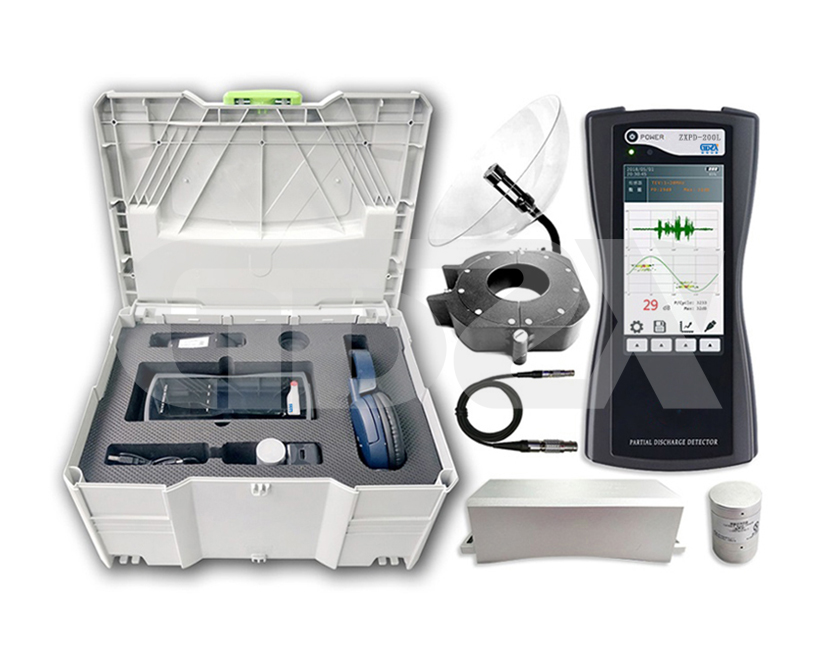 ZXPD-200L Partial Discharge Detector
ZXPD-200L partial discharge detector can be widely used in theater detection of power system, including insulation state detection of high-voltage switch cabinet, ring network cabinet, voltage / current transformer, transformer (including dry-type transformer), GIS, overhead line, cable and other equipment.
Features
1. Simultaneous interpreting PDsignals of almost all electrical equipment with different sensors.

2. Provide time-domain waveform, PRPD, PRPS and other discharge patterns to realize the analysis of different discharge types.

3. The human-computer interface facilitates the data management of different equipment, including the tracing of historical data change trend, horizontal and vertical data analysis, so as to realize 360° comprehensive diagnosis of the tested equipment.

4. Built in ultrasonic sensor and transient ground voltage (hereinafter referred to as TEV) sensor, which can be externally connected with transformer, GIS, overhead line, cable and other special sensors.

5. It is more convenient to use the non-invasive detection method than the traditional pulse PD detector because there is no need to cut off the power supply or apply high voltage source during the test.

6. The test bandwidth range is 30kHz ~ 2.0GHz, which is applicable to the detection principle of various frequency bands.
Technical indicators
TEV measurement

UHF measurement

Measuring range

0-60 dBmV

Detection frequency band

300-1500MHz

Resolution

1dB

Measuring range

-75dBm-0dBm

Accuracy

±1dB

Accuracy

<1dBmV

Maximum pulse per cycle

1400

Sensor band

300-2000MHz

Measurement frequency band

1~100MHz






AA measurement

AE measurement

Measuring range

-6dBμV to 68dBμV

Measuring range

-6dBμV to 68dBμV

Resolution

1dB

Resolution

1dB

Accuracy

±1dB

Accuracy

±1dB

Sensor center frequency

40 kHz

Frequency range

40~200 kHz

HFCT measurement

Transducer transmission impedance

5mV/mA

Detection frequency

1~30MHz

Sensitivity

≤50pC

Hardware

Shell

ABS

Display

5.0-inch RGB LCD

Controller

ARM

Connector

USB interface (with charger input)
3.5mm stereoheadphone jack


External ultrasonic sensor input

Wireless WiFi
Wireless synchronization reference

Headset

8 ohms

SD card

Standard 16G

Built in battery

3.7V/1Ah lithium battery

Working hours

About 8 hours

Charger

AC 90-264V or DC 5V

Temperature

-20 ~ 50℃

H

umidity

20-85% RH

Weight

0.4KG (Host)
Service commitment
Pre-sale service commitments

Sale service commitments

Sale service commitments