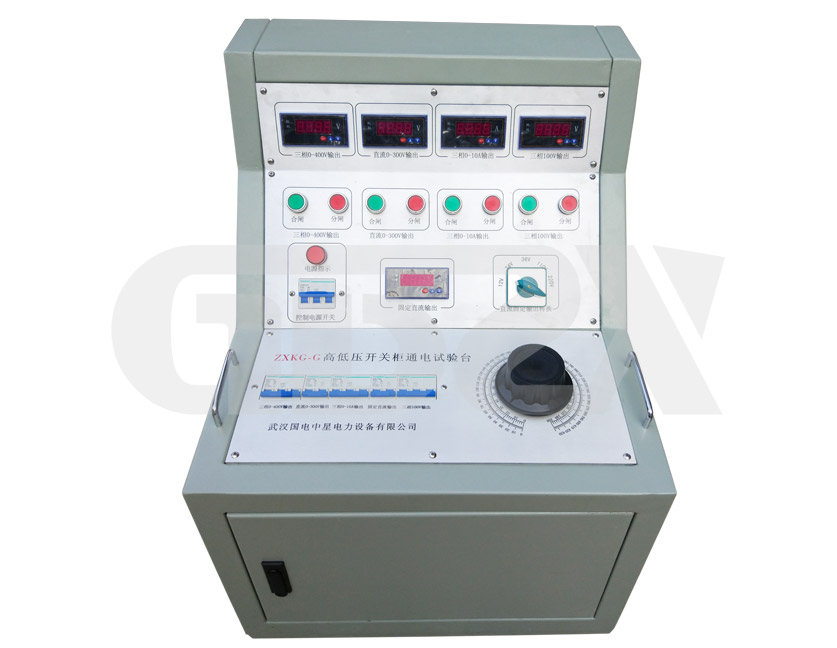 ZXKG-G HV-LV Switchgear Power Test Set
High-low voltage switchgear electrifying test bed is used for high and low voltage switchgear producers to do various electrifying test before products leaving the factory. It can provide all kinds of ac, dc power, and is convenient for test to check if switch equipment is normal or not with much efficiency.
Features
1.Intuitive reading: digitally display tested current, voltage and power factor

2.High accuracy

3.Accurate protection function: Each circuit has air switch as protection.

4.Easy carrying: small size, light weight comparing to other products
Technical indicators
Input Power: Three-phase four-wire AC380V
Output voltage and current
1. Three-phase AC100V output (fixed value) group 1
2. Three-phase AC 0-10A output (<100V value can be adjusted) group 1
3. AC 0-400V output, Current <10A group 1
4. DC operating voltage output DC 0 ~ 260V group 1
5. Single-phase AC220V output (fixed value, plug form) in group 2
6. Three-phase AC380V output (fixed value, wiring terminal) group 1
7. DC fixed voltage 24V, 36V, 11V, 220V output group 1
8. Overall dimensions: 550 * 750* 800 mm
9. Weight: 45kg
Our products are manufactured in strict accordance with international and national standards and industry regulations. Our products passed the ISO9001 international quality management system and got certificate by the national, provincial and municipal electric research institutes, metrology centers and power authority departments. We also obtained license for manufacturing Measuring insturments, fully meeting GB / T19001-2008 quality management system requirements, GB / T24001-2004 environmental management system requirements, GB / T28001-2011 occupational health and safety management system requirements.
Service commitment
Pre-sale service commitments

Sale service commitments

Sale service commitments