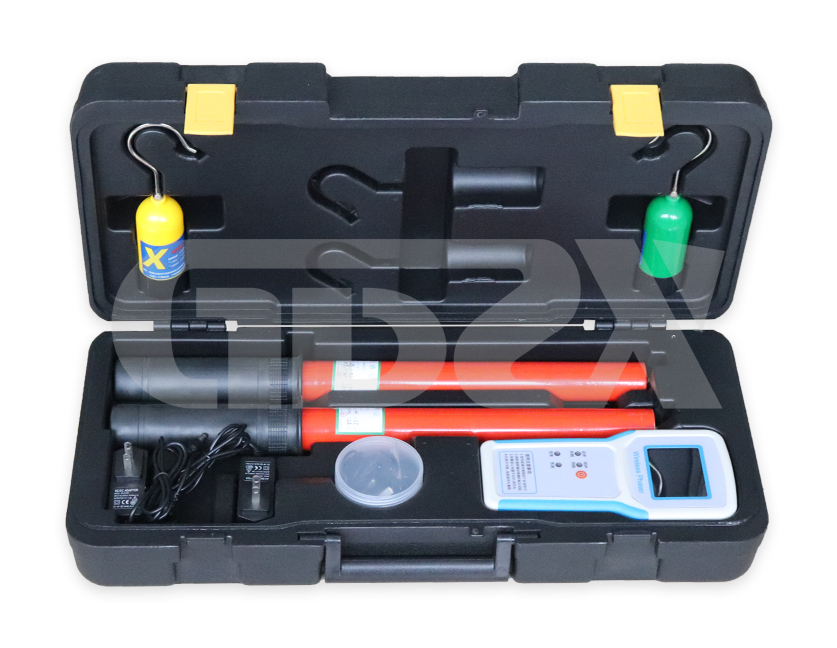 TAG-8000 Wireless High Voltage Phasing Tester
TAG-8000 Wireless High Voltage Phasing Tester is used for grid connection or ring network nuclear phase of two high voltage lines. The instrument can upgrade the function of remote nuclear phase. The instrument is suitable for live working of 6kV ~ 500kV (voltage optional) AC transmission line and secondary side, and has the function of high-voltage power inspection.
The instrument adopts wireless transmission technology, which is safe, reliable and easy to use, and overcomes many shortcomings of wired phase tester.
Features
1.the maximum transmission vision distance between launcherand host:about100M

2. Human voice prompt operation steps and measurement results

3. Display the phase difference, frequency, phase diagram, in-phase and out-of-phase results on the color creen(size: 320×240) at the same time

4. Without operation in hour, shutdown automatic

5. Both host and launcher can built-in rechargeable lithium battery,and can Disassembly and replacement
Technical indicators
1. Accuracy of phase:≤5°
2. Accuracy of frequency: ±0.1Hz
3. Walk Voltage measuring range:6kV-500kV(voltage optional )
4. The capacity of the host batteries:2500mAH,The capacity of the launcher 350mAH
5. leakage current in high voltage <10uA
6. The power of the launcher <0.1W,The power of the host <0.3W
7. Working environment:-35℃~+45℃ Humidity≤95%RH
8. Storing environment:-40℃~+55℃ Humidity≤95%RH
9.weight:about 5kg
10. Packaging size:71×26×11cm
Our products are manufactured in strict accordance with international and national standards and industry regulations. Our products passed the ISO9001 international quality management system and got certificate by the national, provincial and municipal electric research institutes, metrology centers and power authority departments. We also obtained license for manufacturing Measuring insturments, fully meeting GB / T19001-2008 quality management system requirements, GB / T24001-2004 environmental management system requirements, GB / T28001-2011 occupational health and safety management system requirements.
Service commitment
Pre-sale service commitments

Sale service commitments

Sale service commitments