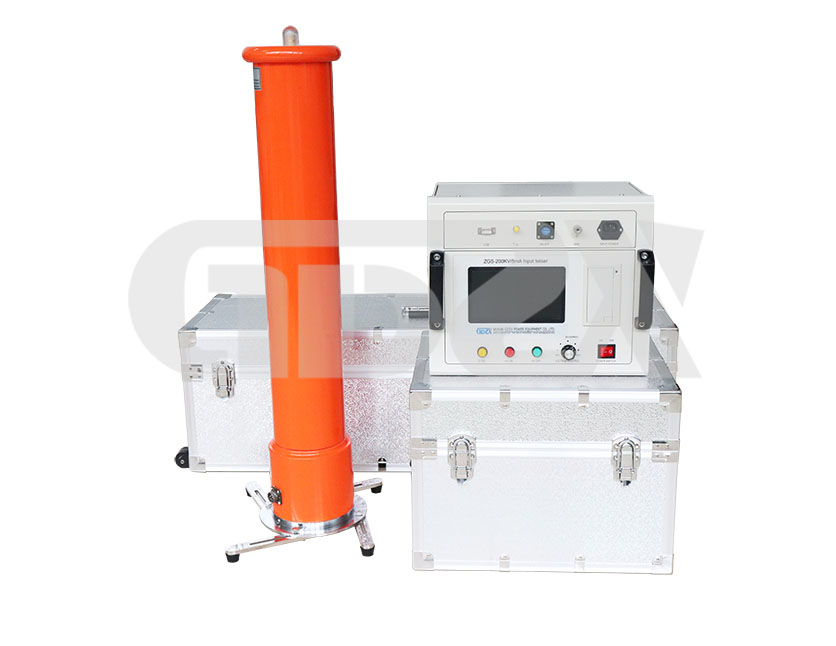 ZGS Intelligent DC High Voltage Generator
ZGS intelligent DC high voltage generator is widely used in DC high voltage test of electric equipment such as zinc oxide surge arrester, magnetic blow arrester, power cable, generator, transformer and circuit breaker.
Features
1. Touch LCD screen.

2. Full automatic MOA test function: good repeatability and high accuracy.

3. Automatic voltage step-up function: test voltage to be preset, output voltage can keep constant.

4. Automatic timing function: after preset test standard voltage step up time, auto timing after test voltage is reach, when time is up it auto reducing the voltage,

5. Over-voltage setting to be processed via microprocessor, high accuracy ,good reliability.

6. Manual test mode for option

7. Data storage function:instantly capture test parameters and auto data save

8. Special shielding, isolation, grounding protection measures to prevent the equipment from damage during withstand of the rated voltage discharge.

9. Software to support connection and working on computer

Technical indicators



40/4

60/3

60/10

100/2

120/2

120/5

200/2

200/3

200/5

300/3

300/5

Rated Voltage(kV)

40

60

60

100

120

120

200

200

200

300

300

Rated Current(mA)

4

3

10

2

2

5

2

3

5

3

5

rated power(W)

160

180

600

200

240

600

400

600

1000

900

1500

Voltage measurement accuracy

Digital display ± (1.0% reading ± 0.2kV)

Current measurement accuracy

Digital display ± (1.0% reading ± 2)

Corrugation coefficient

≤0.5%

Voltage stability

Random fluctuation, ≤1% when the power supply voltage changes by ±10%

Overload capability

No-load voltage can exceed 10% of rated voltage. Ten minutes of maximum charging current is 1.5 times rated current.

power

Single-phase AC 50Hz 220V±10%

Way of working

Intermittent use

A continuous time of up to 30 minutes

working environment

Temperature: -10 to 40℃

Relative humidity: no more than 85% at room temperature of 25℃(no condensation)

Altitude: below 1500 meters

With capacitive load capacity

The tested product has unlimited capacity

Can be charged with 1.5 times rated current

Structural features

Epoxy FRP electrical insulation double pressure cylinder

Air insulation, no leakage

Operating box features

The high-precision 0.75UDC--1mA one-touch button (accuracy ≤1.0%) is most suitable for zinc oxide arrester test.

The overvoltage protection is automatically set at a glance.

The vertical and horizontal dual-use international standard chassis makes the site more convenient.
Our products are manufactured in strict accordance with international and national standards and industry regulations. Our products passed the ISO9001 international quality management system and got certificate by the national, provincial and municipal electric research institutes, metrology centers and power authority departments. We also obtained license for manufacturing Measuring insturments, fully meeting GB / T19001-2008 quality management system requirements, GB / T24001-2004 environmental management system requirements, GB / T28001-2011 occupational health and safety management system requirements.
Service commitment
Pre-sale service commitments

Sale service commitments

Sale service commitments